OEF-1/Health Panel 1/A-F/2014-2021/G.H – Creation of Garden / Parks & Maintenance Project
Establishing and Maintaining of Garden in Erode Government Headquarters Hospital premises:
In Erode Government Head quarters Hospital premises the pathway leading to the hospital was found muddy and with wild grasses, making it difficult for the patients to commutate the hospital. OEF has renovated the pathway by placing paver blocks around the entire Hospital including mortuary area at a cost of Rupees 20 lakhs. OEF have also created beautiful Garden inside the Government Hospital premises by planting various Plants and have been continuously maintaining the same, thus making it accessible for the public.


G.H – Creation of Garden / Parks & Maintenance Project
OEF-2/Health Panel 2/A-Q/2014-2022/G.H –OEF Dialysis &Endoscopy Center
Olirum Erodu Foundation Dialysis and Endoscopy Specialty Ward:
Olirum Erodu Foundation Dialysis and Endoscopy Specialty Ward was established inside the Government Head quarters Hospital premises Erode. This Dialysis and Endoscopy Specialty Ward consists of 16 Dialysis machine, 1 Endoscopy machine and 1 Dialysis Reprocessing Machine.
In this center Dialysis Treatment was given at free of Cost for the welfare of poor Patients. 90 patients are getting benefitted from the Dialysis unit on daily basis. 43,242 patients have been benefited so far. Around Rs.3 Crores has been spent on this project so far for the benefit of the public.

Special Dialysis and Endoscopy Treatment Unit
OEF-3/Health Panel 3/A-B/2014-2018/G.H – Interior &Exterior Painting of Buildings.
Painting of Erode Government Headquarters Hospital – Entire campus
Erode Government Headquarters Hospital is spread over an area of 7.5 acre. The Hospital Premises were found unpainted for many years, based on the request from the Hospital side, all the the buildings of Government Headquarters Hospital were fully painted in and out by Olirum Erodu Foundation at a cost of Rs.19 Lakhs which was helpful in getting NABH Accreditation to the Hospital.

Painting of Erode General Government Hospital- Entire campus
OEF-50/Health Panel 8/A/2017-2019/ Erodu Marathon – Health &Water Awareness
Awareness Creation among the public on Communicable diseases and Water conservation through Marathon – Erodurun – 2018
Olirum Erodu Foundation in association with Indian Medical Association, Young Indian and Confederation of Indian Industry arranged an Awareness Marathon in the playground of CNC College, to mark World Health Day and World Water Day on April 22nd, 2018. The main purpose of the marathon is to create awareness among the general public about communicable diseases such as blood pressure, diabetes, heart attack, stroke and cancer and also to spread the awareness on water conservation. The competition was held in three stages as 21.2 km for 18 years old, 10km for 14 years old and 5 km- off categories. It is noteworthy that about 2000 school and college students over the age of 14 and middle- aged people has participated in this awareness marathon and Tamilnadu DGP Dr.C Sylendra Babu I.P.S., participated as a Chief Guest and awarded Cash Prizes to the Winners.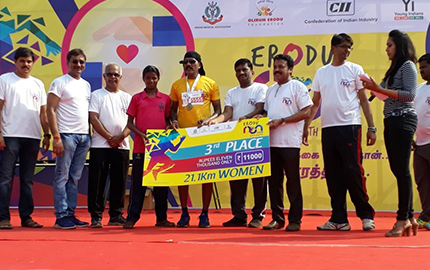 (Marathon – Erodurun 2018)
OEF-51/Health Panel 9/A/2017-2019/ GH Emergency Ward –Life Saving Equipments.
Renovation of Emergency ward
In Erode Government Headquarters Hospital, ICU and Emergency Ward was fully renovated by Olirum Erodu Foundation. Modern and advanced medical equipments,15 ICU beds with mattress, Central Oxygen Plant with a capacity of 1000 liters capacity, continuous Oxygen support pipe line was given to NICU ward, ICU ward, OT complex ward emergency ward and operation theater. Ventilator machine and 4 air conditioners were also donated and inaugurated by the Minister and MLA's on June 3rd, 2018.
Primarily, there was no Oxygen supply to individual beds. Oxygen was provided to the patients through Oxygen cylinders with the help of helpers, to provide proper treatment to the patients. But after the installation of centralized Oxygen supply, Oxygen was made available to each bed for treatment and for the benefit the patients.
This total project costs about Rupees 43,15,103/-

GH Emergency Ward –Life Saving Equipments.
OEF-52/Health Panel 10/2017-2018/ Health Club Awareness.
Health Club Awareness Sessions:
Olirum Erodu Foundation conducted various awareness programs for students in school in the Erode corporation area on hygiene based holistic physical health and healthy eating practices by engaging by Doctors and pediatricians. Awareness programs on hygeine and healthy wholefood and physical health was conducted by professional pediatricians for around 34 Government school students in the Erode Corporation area. So far, 6910 students and 338 teachers were benefitted from these awareness programs.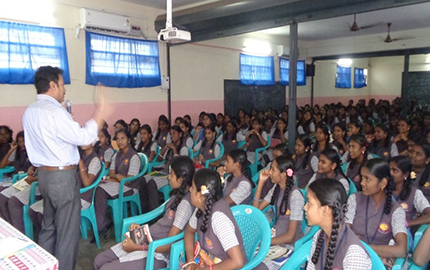 Health Club Awareness Sessions
OEF-53/Health Panel 11/2017-2018/ Welfare of Old Age:
Olirum Erodu Foundation organised an welfare ceremony for welfare of Old age people on November 25th, 2017 , at Sakthi Duraisamy Mahal, Perundurai road,Palayapalayam, Erode,. Padmashree Dr.V.Natarajan India's first geriatrician addressed this ceremony and explained in detail about elderly forgetfulness, elderly diet, elderly infections and vaccines for the elderly for old age people. More than 1000 senior citizens have participated in this special function.

Old age people welfare ceremony
OEF-55/ Health Panel – 13/2017 – 2018/ X Ray & C R Machines for Erode GH:
Olirum Erodu Foundation in association with department of DRDA Government of Tamilnadu has donated funds to upgrade the facilities of Government Headquarters Hospital by providing CR Machine and X-Ray machine which is now well used for the benefit of poor Patients. The total project costs about Rupees 11,88,000/-
X Ray & C R Machines for Erode GH
OEF-79/Health Panel 14/A-B/2019-2021/ Waata Sattam Health mix – Mall Nutrition :
Nutritional Deveolpment Program for Poor students in Government schools run jointly by the Olirum Erodu Foundation and the KKSK Community Foundation :"WATTA SATTAM"
Olirum Erodu Foundation in association with KKSK Welfare Trust, launched and implemented a nutritional development program for the students of Government schools of Erode called "WATTA SATTAM" with the objective of eradicating malnutrition among government school students in Erode and making them healthier. A nutritional supplement is being provided at free of cost, for a period of one year or more according to individual needs.
With the permission of Erode District Administration and the School Education Department, Wattasattam project was initiated on July 19th 2019. 11 Government schools of Erode District are being covered under this project. Poor malnourished students from these schools are being selected and nutritional health supplement is provided to those students at free of cost.
This project is further extended to 5 schools of hilly region like Burgur, Thalavadi and the students there are also getting benefitted from this project.
Around 1964 students are getting benefitted under this project.
Olirum Erodu Foundation and KKSK welfare Trust have donated Rupees 1 Crore each for this novel project.

Nutritional Development Program – "WATTA SATTAM"
OEF- 80/Health Panel 15 /2018-2019/ Wonder Project – Prevent Maternal Mortality
Wonder Project- Women's Obstetrical Neonatal Death Evaluation Reduction was carried out at 2 Government Hospitals of Gobichettipalayam and Sathyamangalam of Erode District. This was further carried out in 6 Primary Health Centers of Ammapettai, Chithode, Modakkurichi, Tazhvadi, Ungalvadi and Keeramangalam. This project is one of its first kinds in the whole state of Tamil Nadu, 24,892 pregnant mothers have been educated and over 2,824 mothers have benefited from this project. Olirum Erodu Foundation donated Rupees. 6, 00, 000/- for this project.
Wonder Project – Prevent Maternal Mortality
OEF-133/Health Panel – 20 /2020-2021/ Sivagiri Govt Hospital Renovation Work
Sivagiri Government Hospital Renovation Work:
Based on the request from the Medical Officer, Sivagiri, the Government Urban Primary Health Centre, Sivagiri was renovated on May 25th, 2021. Various Operation theater Equipments, Electrical equipments, tiles, granite stone for patients and RO water system for drinking water was installed. All the necessary fundamental requirements were provided to the hospital at a project cost of Rs.15,00,000/-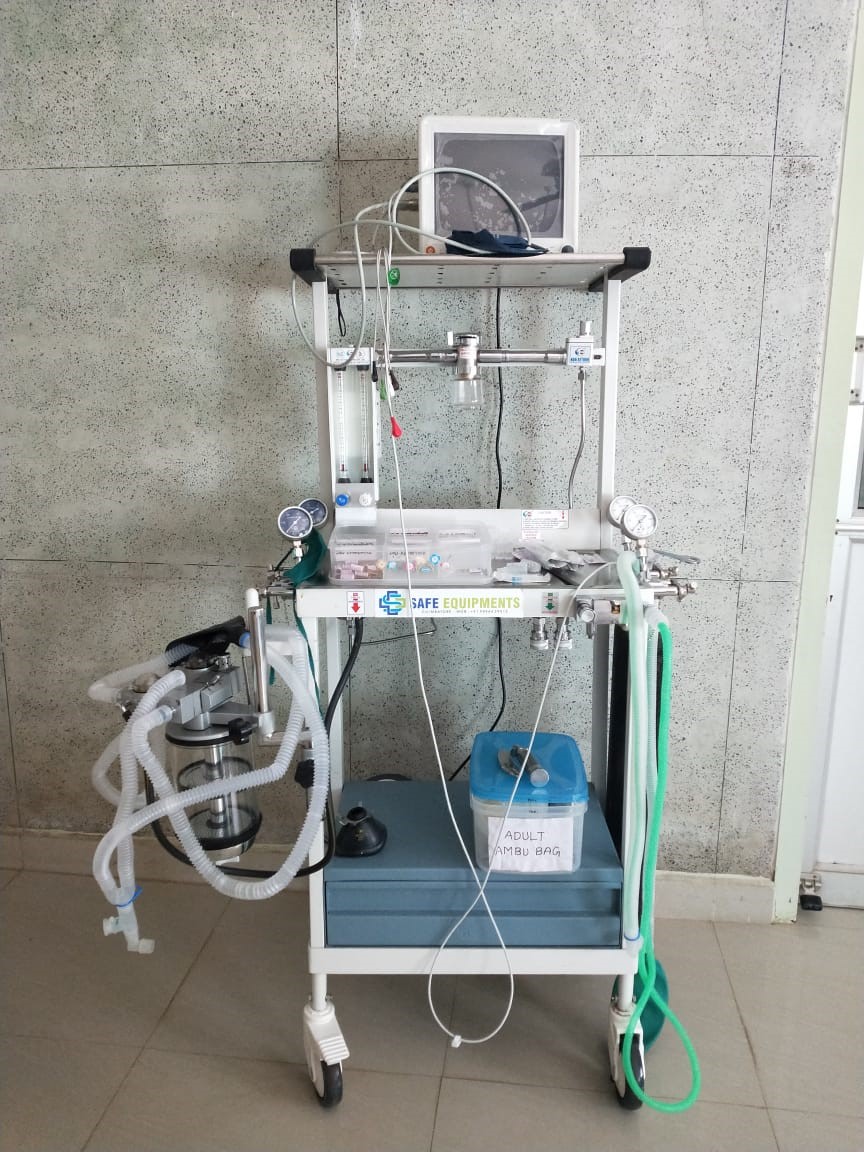 sivagiri – UPHC Upgradation Works
OEF – 135/Health Panel – 21 /2020-2021/ Project – Suicide Prevention Counselling Awareness
Counseling Centre and Awareness for Suicide Prevention:
Suicide is one of the most common causes of increased numbers of death in recent times. About 10 lakh people commit suicide within a year. Suicide is committed when the person is unable to face their life's current situation or is exhausted emotionally or physically due to personal issues. A more holistic solution is needed to prevent this and reduce it. Olirum Erodu Foundation in association with The Erode District Legal Services Commission , Erode District Police Department, and Sukra Psychiatric Rahabilitation Ceter. have teamed up to create the awareness and preventive measures.

Suicide Prevention Counseling Center – Inauguration ceremony